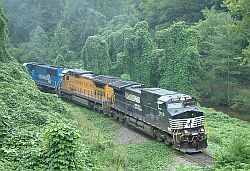 Welcome to the RRPictureArchives.NET contributor site of James Morgan.

Born 01/27/44. My paternal grandfather was an interurban freight motorman on the Dayton & Troy Electric Railway who had to retire early after three accidents in the days before FELA and worker's comp. My mother grew up with the Union Transportation Company in New Egypt, NJ, and her half brother worked briefly as a draftsman at Baldwin shortly after World War I. I acquired a liking for steam locomotiives during my first seven hears trackside beside the PRSL in Penns Grove, NJ. Dieselization came as a shock for me, but today I have quite an interest in the diesel electric. I witnesses operational steam for a second time while living in Heldelberg, German, where I saw steam from the Laenderbahnaera (State Railroad Era), the Unity Era, and the Postwar Era largely at Karlstor Station. I have been a university philosophy instructor and a biomedical-legal-humanities freelance translator. My main interests are Mallets (I published a complete set of Mallet wheel type names in the August edition of the Sounder (Snoqualmie, WA) entitled "Three Chesapeakes and a Little River." I like US Superpower and rigid frame compounding, particularly in German Laenderbahnaera locomotives. But not many of these are running, and I have to travel to see the few which are still running. So I have learned to become interested in numerous aspects of railroading. I ride PATCO. Amtrak is my airline for railfans who ask what flight I will be on when I visit them. I have published an RR photography column in an NRHS newsletter, but my interests in photography are broad, encompassing flowers, birds, insects and lighthouses as well as trains. I have published short historical pieces on industrial and agricultural railways in the Crew Caller, former newsletter of the West Jersey Chapter of the NRHS, and in Cranberries magazine. Topics include rails on cranberry bogs, zinc factories, sand pulverizing plants, glass factories, and marine railways. I also have been a regional rail passenger advocate and have published sort articles in DVARP's newsletter. Until I manage to digitize my collection of RR slides and prints from film days, most of what I will post here will be my weekly reports to Will Coxey of the West Jersey Chapter of the NRHS on the local freight CA-51 and the best from my monthly trips to Strasburg. I lead two lives. I am transgender. My femme name in Jennifer (Jennie) Mae Barnes-Morgan. I am active in women's societes such as NOW and AAUW en femme. While the woman within, Jennie, disliked trains for a time, like many women I courted, she has accepted railfanning and is an LiRR fan. I am also a model railroader (HO) to a small extent.

James S. Morgan
March 21, 2013


You may browse my collection of pictures via the menu located on the left hand side of the page. I hope you enjoy the collection and thanks for stopping by!